Home

/

Mattress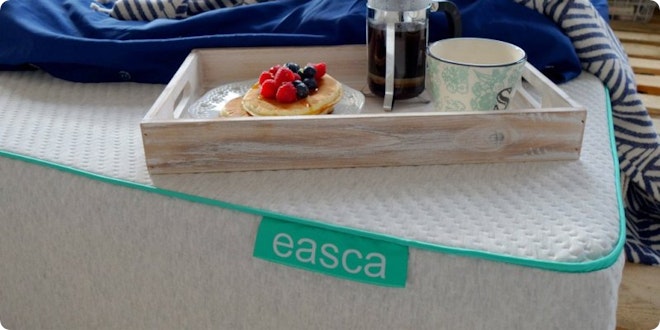 Essential Mattress Info
Brand
Easca
Mattress Type
Memory foam
Prices
Other Sizes Available?
Video
Certifications
Trial & Warranty
Trial Period
Trial Period (nights)
100
Warranty Length (years)
10
Firmness Options
One Firmness Fits All?
Adjustable Firmness
Half-Half Firmness
Selectable Firmness
Firmness Info
The Easca is a medium-firm mattress, about a 6 to 7 on the firmness scale. Research indicates this firmness is preferred by the majority of sleepers and is best for relieving back, shoulder and neck pain. The Easca is suitable for sleepers of any position. It is also ideal for sleepers of any size or weight - as the foam reacts to support you based on the amount of pressure your body exerts on these luxury foams.
Mattress Construction
Materials Overview
The Easca Mattress is a three layer construction of the following high-quality, high performance foams:
5cm Gel Infused Cooling Memory Foam (Easca Gel Foam™)
5cm Supportive Foam
15cm High-Density Foam.
Comfort Info
Easca uses a smart cooling system because sleeping hot can be a big problem. The Easca Gel Foam™ teams up with the open-air second layer to promote airflow and disperse any heat.
Support Info
Patented Easca Gel Foam™ is paired with two additional luxurious support layers that form the perfect foundation and bounce for our mattress.
The three layers work together to reduce tossing and turning and limit motion transfer - so you will barely notice if your sleeping partner moves throughout the night.
Comfort Specs
The top comfort layer is infused with cooling gel. These gel particles react to keep you cool through the night.
The middle transition layer is an open air technology that makes it more breathable than traditional memory foam which promotes airflow.
Support Specs
The supportive foam used in the transitional second layer contours to your body and offers pressure point relief.
The base layer of high-density foam is ideal for supporting the natural alignment of your spine, helping to relieve any back, neck and shoulder issues.
Fabric Specs
Easca is wrapped in a cool to the touch and soft on the skin and designed with a seamless edge to maximise air flow and comfort. This is woven from a single piece of viscose and polyester blend fabric.
Manufactured in
Ireland
Suitability
Side Sleepers
Back Sleepers
Size & Weight
UK Single
UK Single Dimensions
190 x 90 x 25 cm
UK Single Weight (kg)
UK Double
UK Double Dimensions
190 x 135 x 25 cm
UK Double Weight (kg)
UK King
UK King Dimensions
200 x 150 x 25 cm
UK King Weight (kg)
UK Super King
UK Super King Dimensions
200 x 180 x 25 cm
UK Super King Weight (kg)
Delivery
Delivery Cost
FREE
Delivery Info
The Easca is usually delivered within 3 to 5 working days within the island of Ireland. Delivery is direct from the Dublin manufacturers via Aerly Bird Transport.
Prices