Home

/

Mattress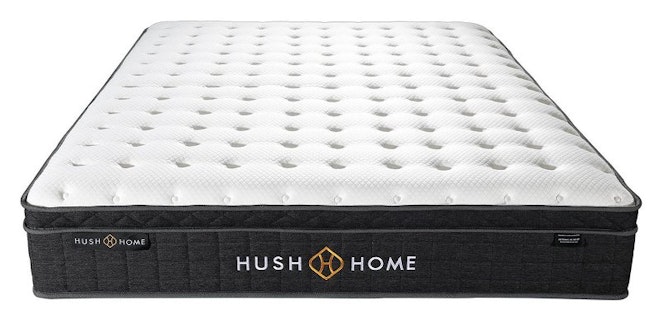 Essential Mattress Info
Brand
Hush Home
Mattress Type
Hybrid (foam & springs)
Prices
Other Sizes Available?
Video
Certifications
CertiPur-US®

OEKO-TEX®

Trial & Warranty
Trial Period
Trial Period (nights)
100
Warranty Length (years)
12
Firmness Options
One Firmness Fits All?
Adjustable Firmness
Half-Half Firmness
Selectable Firmness
Firmness Info
Based on our research, most people experience improved sleep on a mattress that has firm support but remains comfortable. Our carefully calculated hybrid design is 7.0 to 8.5 on a firmness scale of 1 - 10.
Mattress Construction
Materials Overview
Introducing the 5-star hotel quality mattress featuring four layers of construction:
Top layer of open-cell foam with air channels
Transition layer of memory foam
Support layer of high-grade orthopedic foam
1,000+ premium-grade tempered steel pocket coils
Wrapped in CoolStitch™ Fabric.
Comfort Info
Be a little nicer to your shoulders, elbows, hips, and knees. Our mattress is topped with open-cell foam and memory foam for prompt pressure relief. You'll notice immediately: our mattress responds to your body heat and contours around every pain point. Try it out. Your body will thank you.
Support Info
Our steel-encased EdgeSupport System™ reinforces the structure of the mattress all the way to the outer edge, increasing the sleep surface of the mattress by 30% and promoting uniform comfort across the entire sleep surface. This also means you can sit on the edge of your mattress without slipping off.
Our orthopedic foam promotes perfect spinal alignment.
Comfort Specs
Motion Isolation
Each spring moves independently for undisturbed sleep
Bouncability
Spring action has fun bounce that foam mattresses can't match.
Support Specs
We merge premium foam layers and pocket coils in a way that promotes perfect spinal alignment while offering stunning comfort.
How do we do that? It's called progressive construction, which has four parts: a responsive top layer of open-cell foam, a contouring middle layer of memory foam, a firm support layer for extra lumbar support, and an adaptive foundation of pocket coils to adjust to your movement.
The result is a perfectly balanced, perfectly supported mattress.
We use more than 1,000 premium-grade tempered steel coils. Each coil is separately sheathed in cloth so it adjusts independently of any other coil.
What does that mean? Even weight distribution, better back and hip support, and superior ease of moment.
Fabric Specs
Our engineers specially engineered our CoolStitch™ outer fabric to prevent dust-mites and allergens while keeping you cool. To double-down on the cooling effect, we added air channels to our open-cell foam to ensure air flow and moisture evaporation through the night.
Then we secure the top layers together using a handmade process known as tufting. Tufting ensures a uniform feel, guarantees that support doesn't shift, and increases your mattress's lifespan by 50%. We're proud that our mattress is the only mattress sold online that utilizes this technique.
Manufactured in
Suitability
Side Sleepers
Back Sleepers
Size & Weight
Single
Single Dimensions
183 x 91 x 28 cm
Single Weight (kg)
Double
Double Dimensions
183 x 137 x 28 cm
Double Weight (kg)
Queen
Queen Dimensions
190 x 152 x 28 cm
Queen Weight (kg)
King
King Dimensions
198 x 183 x 28 cm
King Weight (kg)
Delivery
Delivery Cost
FREE
Delivery Info
Offering a White-Glove delivery service, simply select your preferred delivery time and when we're at your home, we set up your new mattress for you. We can even remove your old mattress!
Prices