Home

/

Mattress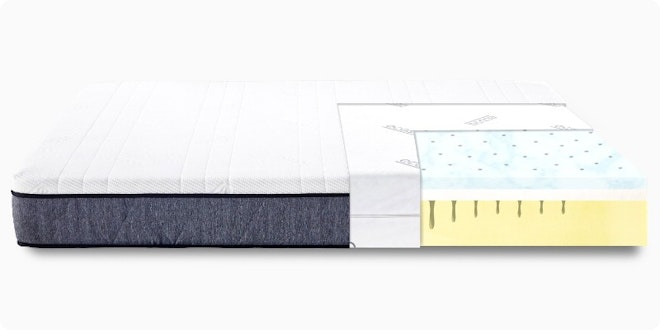 Essential Mattress Info
Brand
Ecosa (Hong Kong)
Mattress Type
Memory foam
Prices
Other Sizes Available?
Video
Certifications
CertiPur-US®

OEKO-TEX®

Trial & Warranty
Trial Period
Trial Period (nights)
100
Warranty Length (years)
15
Firmness Options
One Firmness Fits All?
Adjustable Firmness
Half-Half Firmness
Selectable Firmness
Firmness Info
The Ecosa mattress is made for the best back support. Our 3-in-1 design gives you the ability to adjust between medium, medium-firm and firm inside one mattress.
Mattress Construction
Materials Overview
3-Layer Foam Construction:
G-7 Gel Memory Foam
ECO-Tex Memory Foam
Ergonomic Support Foam
Removable Outer Cover
Waterproof breathable inner cover.
Comfort Info
We use high density foam as a base for strength and resilience. It is a key factor to combine with the ultimate pressure relief and unrivalled comfort.
Support Info
Ecosa™ G-7 Memory foam, a new type of memory foam, bringing memory foam technology into a higher level. With added gel particles which has a cooling effect that achieves the desired temperature stabilization. It evenly distributes your body weight without pushing against pressure points and prevents your body sinking into the bed too deeply.
Comfort Specs
Body temperature is directly related to sleep quality. Your core body temperature drops as you sleep, and rises sharply as you wake, so it's essential that your mattress doesn't wreak havoc with your thermoregulation. The Ecosa's built-in air circulation system allows air to flow freely through the pin-core holes across all layers of the mattress, meaning you can say goodnight to sleeping hot.
Support Specs
The Ecosa is engineered to support your spine's natural alignment, allowing you to relax into a restorative sleep and wake feeling pain-free and refreshed. We've got your back.
Fabric Specs
Removable Soft Touch Cover
We use the highest quality of fabric to produce a beautiful mattress cover that is removable, breathable, flexible, and machine-washable.
Waterproof German Tech Inner Protector
Our new inner cover uses German micro-filament fabric which is very breathable. Due to the extremely fine micro-filaments, it is 100% waterproof and protects from 99.99% of dust mites.
Manufactured in
China
Suitability
Side Sleepers
Back Sleepers
Size & Weight
Single
Single Dimensions
183 x 91 x 20 cm
Single Weight (kg)
16
Double
Double Dimensions
183 x 137 x 20 cm
Double Weight (kg)
25
Queen
Queen Dimensions
190 x 152 x 20 cm
Queen Weight (kg)
28
King
King Dimensions
203 x 183 x 20 cm
King Weight (kg)
32
Delivery
Delivery Cost
FREE
Delivery Info
Ships in a box, expected delivery in 1 - 4 days.
Prices