Home

/

Mattress
Mattress
Mattress Comma Sleep Hybrid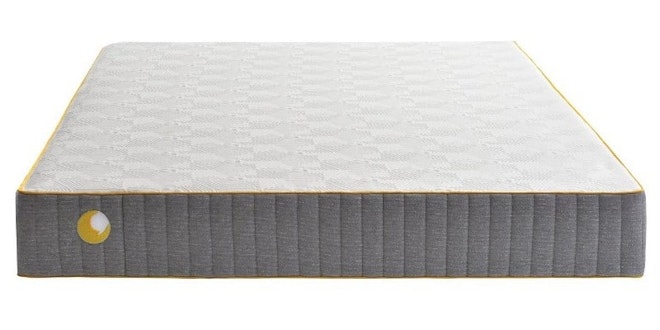 Essential Mattress Info
Brand
Comma Sleep
Mattress Type
Hybrid (latex, foam & springs)
Prices
Other Sizes Available?
Video
Certifications
OEKO-TEX®

Trial & Warranty
Trial Period
Trial Period (nights)
100
Warranty Length (years)
10
Firmness Options
One Firmness Fits All?
Adjustable Firmness
Half-Half Firmness
Selectable Firmness
Firmness Info
The Comma Sleep Mattress we describe it as a 7 out of 10 on the firmness scale (where 10 is the most firm). We encourage everyone to give us a try regardless of your usual preference. If you're not 100% satisfied, you can return it for a full refund.
Mattress Construction
Materials Overview
3-Layer Hybrid Construction:
Natural Latex Foam
HD Foam
Individual Pocket Springs
Fire Barrier
Tencel® Cover.
Option to add a 5cm topper.
Comfort Info
Comma Sleep uses the best materials like Tencel®, natural latex and individual pocket springs. These highly ventilating materials let you say goodbye to a sweaty night.
Support Info
Comfort Specs
Natural latex is naturally dust mite and mould resistant offering you restful comfort.
Individual Pocket Springs allow a natural flow between your body and the material, so the Comma Sleep Mattress is extremely breathable.
Support Specs
Individual pocket coils don't rely on connection between coils, so you can enjoy better sleep support regardless of your sleep position.
Fabric Specs
Tencel® is naturally soft to the touch and long-lasting comfort. The fibres are manufactured from the renewable material beech wood, sourced from sustainable forests and It naturally manage the transportation of moisture, enhancing fabric to keep your skin pleasantly comfortable, since it absorbs moisture efficiently, it provides less favorable environment for bacterial growth, offering better hygienic qualities.
Manufactured in
China
Suitability
Side Sleepers
Back Sleepers
Size & Weight
Single
Single Dimensions
183 x 90 x 20 cm
Single Weight (kg)
20
Double
Double Dimensions
183 x 137 x 20 cm
Double Weight (kg)
29
Queen
Queen Dimensions
190 x 152 x 20 cm
Queen Weight (kg)
34
Delivery
Delivery Cost
FREE
Delivery Info
Once the order is confirmed, Comma Sleep will deliver your order on the next working day (except Sunday & public holidays). It's simple, once you've placed your order, our customer service team will contact you to confirm the delivery details such as address and time.
Prices